Kilardar Temperature and Humidity Monitoring Device Technical Specifications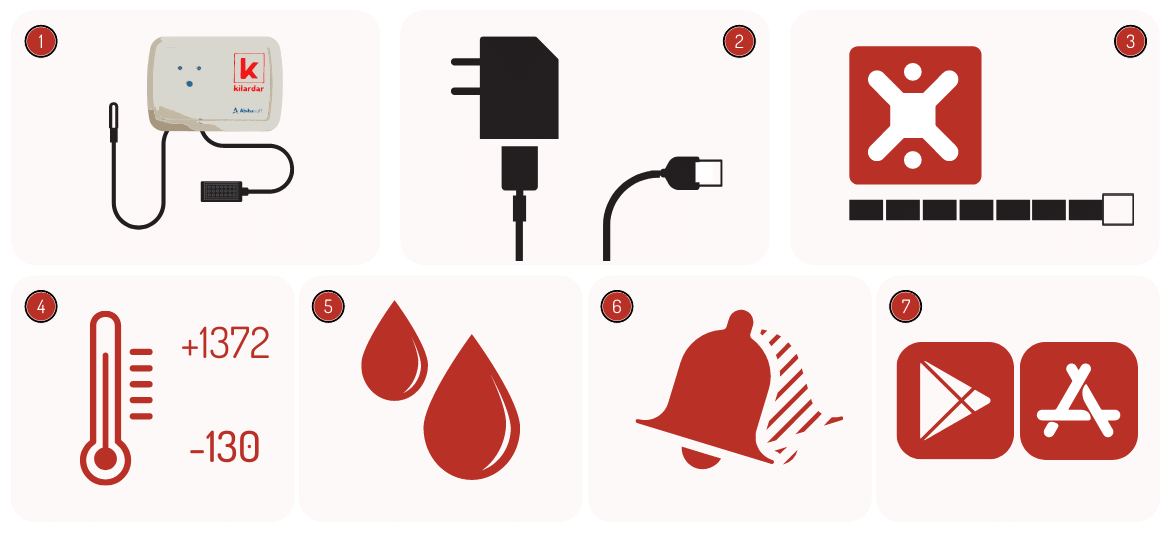 1. Package includes Kilardar temperature and humidity monitor, 2m cable digital temperature sensor and 2m cable digital temperature and humidity sensor. The Kilardar device operates with 5V DC operating voltage and is connected with Wi-Fi 802.11b / g communication.
2. Package includes 220V AC / 5V DC 2A USB Adapter and 2m USB-A / micro USB power cable.
3. For assembly and fixing in the package; There are nailed hanger and screws, 8 sticky plastic crochets and 8 locked cable ties.
4. The temperature sensor changes according to the environments.
It is in the range of -40 ° C / + 100 ° C for Kilardar Pharmacy environments.
It is between -130 ° C / + 1372 ° C for Kilardar Hospital environments.
Temperature sensors have a temperature measurement accuracy of ± 0.25 ° C.
5. Humidity sensor measures humidity in the range of 0.1 / 99.9% RH. It has ± 3 RH humidity measurement accuracy.
6. The notification system has push message, sms, e-mail and voice call notifications when the sensor values ​​are exceeded. In addition, when there is internet and power outage, notification is made via push message, sms and e-mail.
7.It has Android, IOS and web platform support.
Kilardar System Features;
It has instant status, mobile application and remote viewing via web interface.
Kilardar temperature and humidity monitoring system measures per minute.
It makes your job easier with monthly detailed reports and graphics.
Kilardar system 7/30/60 day follow-up performance evaluation
It has independently definable limits for each sensor.
and makes suggestions for improvement.
2-year data storage service is provided.
There is no limit to adding sensors.
There is no limit to add users.
By purchasing the Kilardar temperature and humidity monitoring system, you can easily setup it without assistance.
Usage Areas of Temperatures
-130 ° C; Research and long-term storage applications for scientific experiments, preservation of cell cultures, bone material, DNA, bacteria, etc. It is used in storage environments such as. -80 ° C; With long-term storage, DNA / RNA is used for long-term storage of different samples such as plant samples, blood, plasma, tissue, stem cells, autopsy material and bone marrow. -40 ° C; It is used in the ideal freezing environment for preservation of vaccines, blood plasma, test samples, samples and other biological materials.
-18 ° C; It is a generally accepted base temperature for the storage of perishable, flammable or hazardous materials and is used in environments where these materials are present. + 4 ° C; It is used in the storage environments of samples such as blood banks, pharmaceutical refrigerators, vaccines, diagnostic samples, enzymes for genetic research and culture. + 24 ° C; It is used in the development stages of medicine, medical equipment, cosmetic products and kits tested in laboratory research, which should be stored in ideal room conditions.
+ 125 ° C; It is used in the product environments made of thermoplastic and plastic that can be processed by melting at high temperatures in the industry, medical, electrical-electronics, automotive sectors. + 1372 ° C; It is used in the production environments of products that require superior mechanical and physical properties produced between +200 and +1372 C in the aviation, defense, energy, medicine and transportation sectors.
Ready to started?
Keep the temperature and humidity values ​​in the environment at the desired level with the Kilardar Continuous Improvement System.